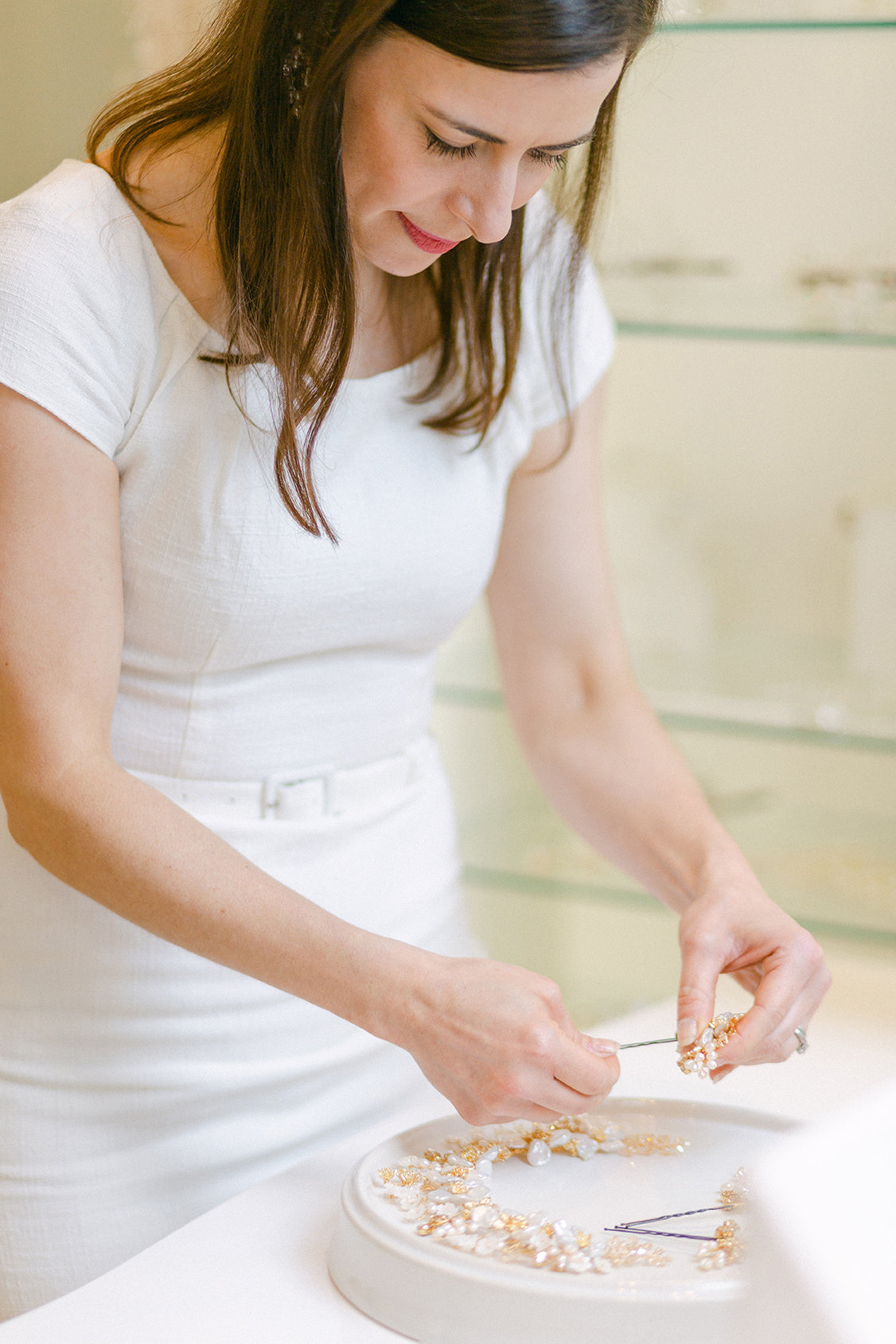 Bespoke Service
Hermione Harbutt is a consummate couturier and creator of accessory dreams; proud to design pieces with high quality craftsmanship and the finest materials. 
Creating everything by hand within her beautiful British showrooms allows Hermione to easily create a bespoke design that is perfect for you.
Renowned for her warmth and personal approach, Hermione loves to create bespoke pieces and there is no charge for this service. Whether you would like a variation of a current design, something completely unique or simply some guidance and styling advice, Hermione would love to hear from you.
Accessories are a very personal style statement and Hermione knows how important it is to find the perfect pieces to complement that special wedding gown or outfit.
Bespoke options allow you to perfectly match your pieces to your dress, the theme of your wedding or event, your personal style or to incorporate an important family heirloom. Having something that is unique to you will make you cherish your accessories all the more.
"The bespoke jewellery made for me was absolutely exquisite. Hermione was a dream to work with, I have never received such personal, helpful and efficient service in my life."
How it works
Our Bespoke service lets you create a design completely unique to you.
You choose your detailing; using pearls, crystals or gemstones as well as your choice in wire colour, shape and fitting. You can create something brand new or combine designs from Hermione's beautiful portfolio to build a piece perfect for you.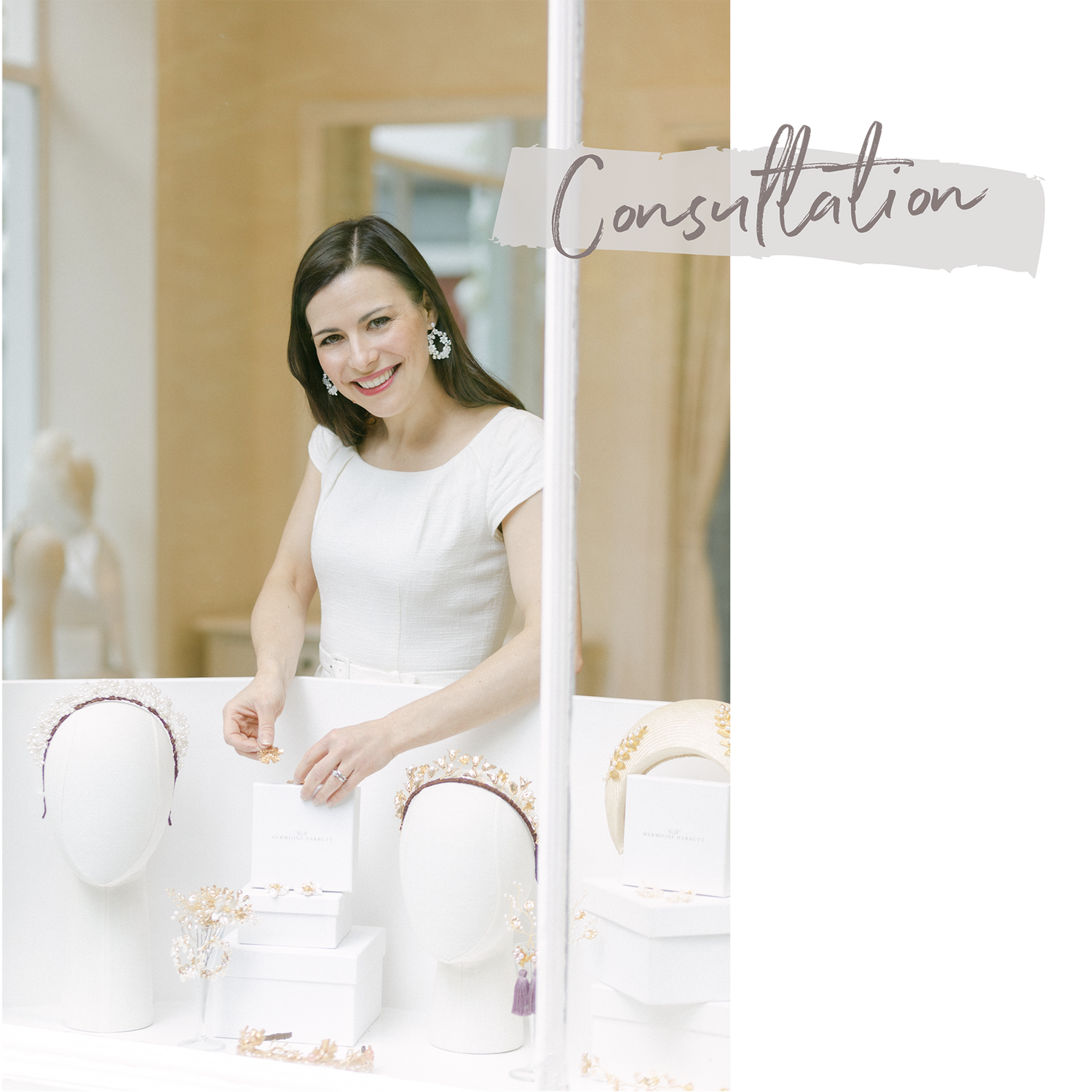 Say hello! Hermione would absolutely love to hear from you and what you have in mind for your accessories. This could be a variation or combination of our current designs, or something new that you envision.
Not entirely sure what it is that you're looking for? That's fine too! Simply describe your look - your dress, your hairstyle (if decided), whether you are wearing a veil etc - and the overall vision you have for your wedding or special occasion.
Hermione and her team can then suggest some beautiful options for you. This can all be done via email, an appointment in one of our showrooms, or a video consultation.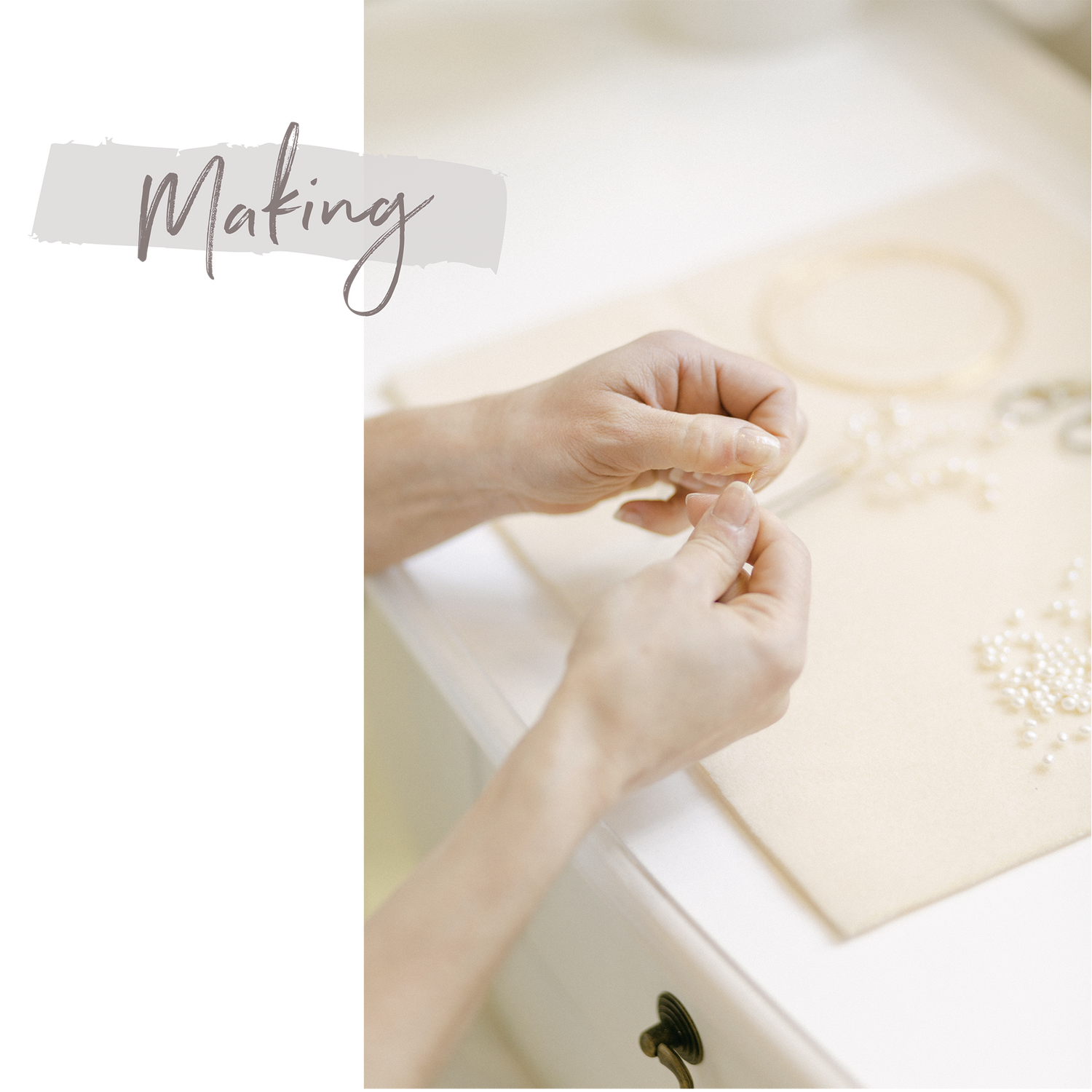 Once we have been in touch and narrowed down some options together, we will finalise your special designs and provide a final quote and order details. Once everything has been approved by you, payment will be made and Hermione will commence work on your accessories. 
Your designs will be handmade in Hermione's beautiful showroom studio. Each piece starts it's life as heavenly little piles of loose freshwater pearls, Swarovski crystals, and gemstones. Hermione also uses 24ct gold plated flowers and leaves, alongside sheets of brass that are hand cut and shaped into blooms and organic shapes.
These beautiful materials are then intricately hand wired together using delicate silver and gold tone wiring, resulting in your very own exquisite bespoke design.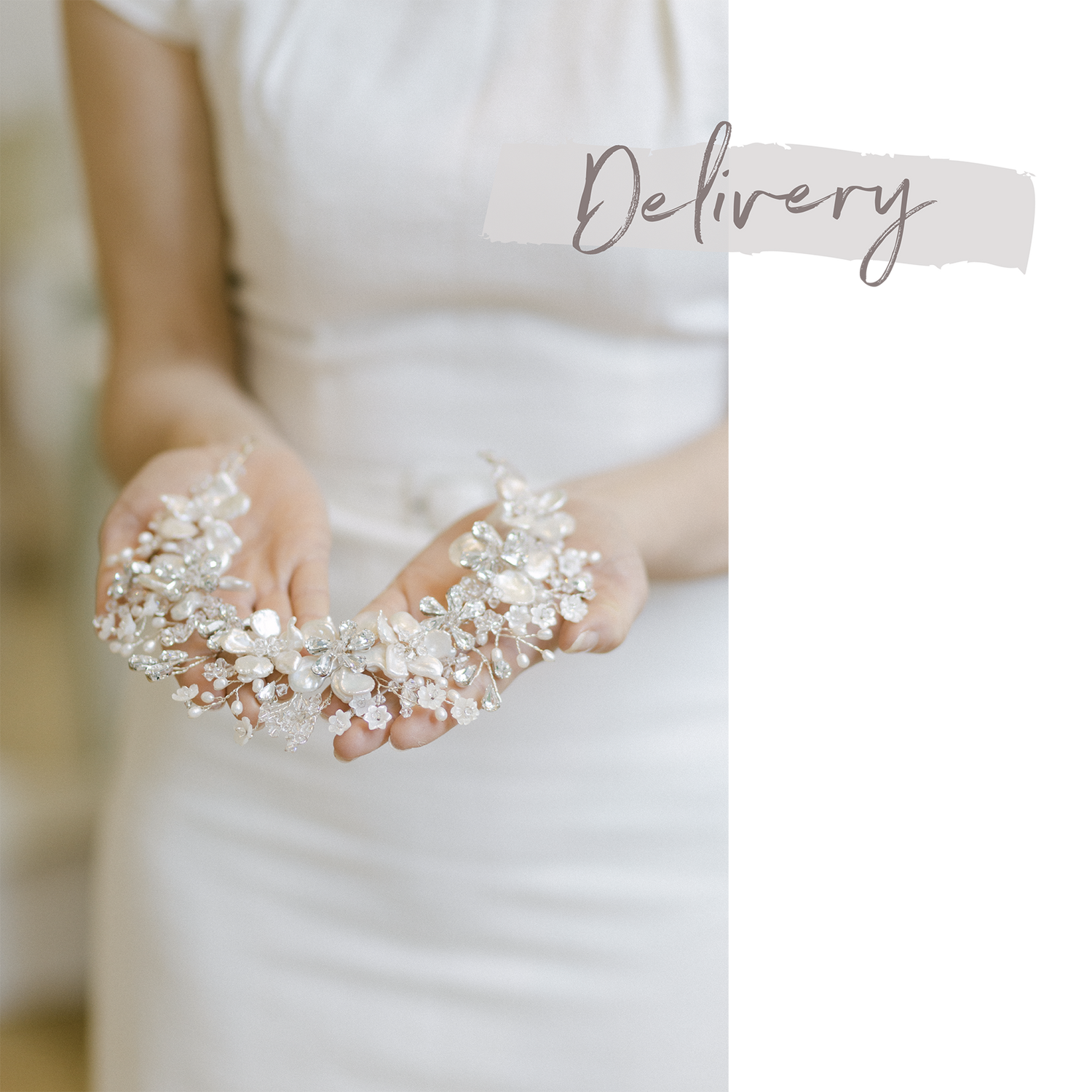 The creation of your handmade accessories is a labour of love and can take several weeks or months.
Rush orders are available when required. A delivery date will be decided together at the point of ordering, and for your accessories to arrive in plenty of time for your hair trials, or final dress fittings.
Once your special accessories are ready they will be beautifully packaged in our signature boxes and sent via Royal Mail tracked delivery direct to your door, ready to be unwrapped and treasured.